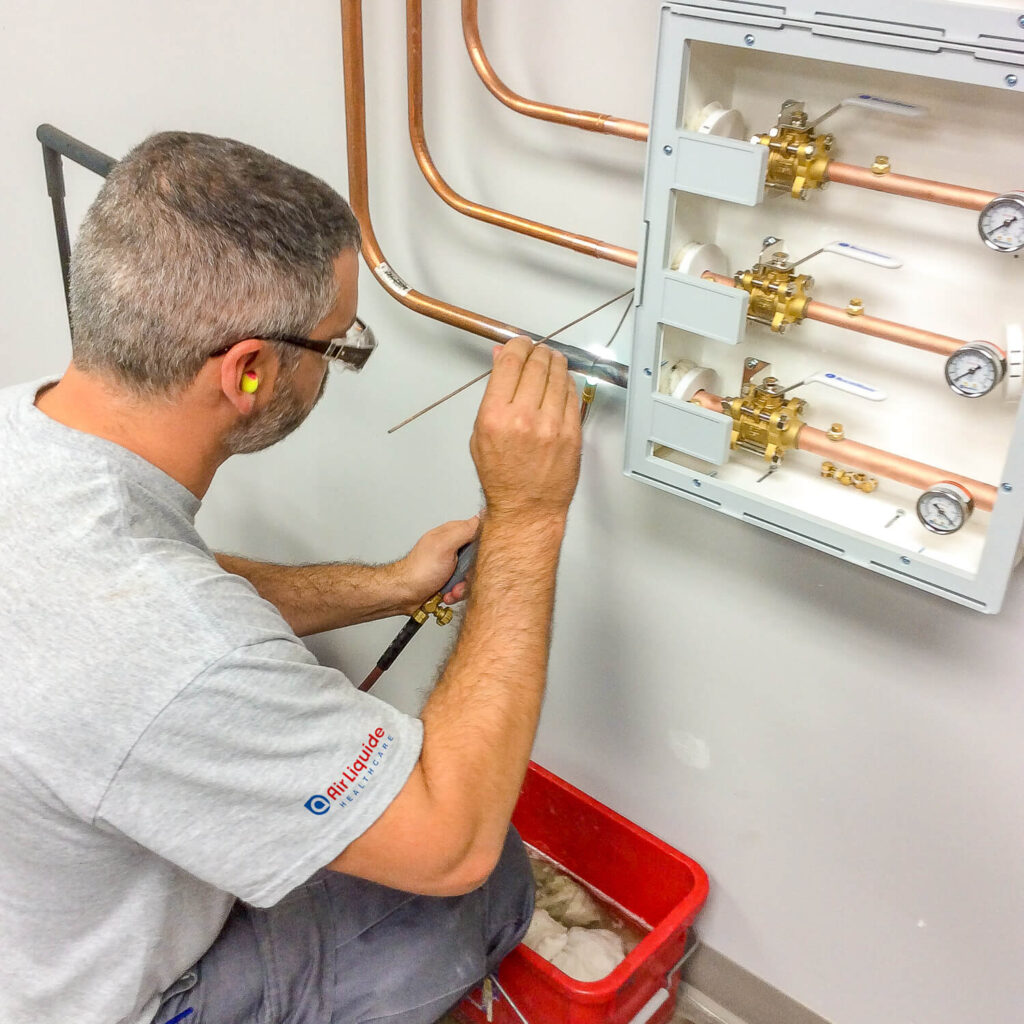 Professional Gas Installation Services
Gas appliances are well known for their precise control of your cooking, instant warmth throughout your home and continuous hot water. Your local Mates Rates licensed fitters can help you with gas installations for the appliances that are right for your home. Servicing, repairing, and replacing all manner of natural and LP gas appliances on a daily basis has equipped Mates Rates with a thorough understanding of what is available and their comparative merits.
Contact your Mates Rates gas appliance specialist today for prompt servicing, repairs, and gas installations advice. Call (02) 9191 7369, or use the "Tap to Call" button. We are always in the area and happy to help.
Gas installations are carried out for many domestic appliances most particularly:
Gas Cooktops – Preferred by all good cooks & professional chefs
Gas Ovens – Providing unmatched culinary control
Gas Heaters – Featured, mobile or discreet, plus outdoor too.
Gas Hot Water – Storage, continuous flow & gas boosted solar.
Gas Refrigeration & Freezers – Versatility, on the move.
All gas installations and fit-outs in NSW must be undertaken by a licensed gas fitter as defined in the Home Building Act 1989. Details are accessible from the NSW Government Fair Trading website and upon request from Mates Rates Plumbing.
DIY gas installations for appliances are illegal in Australia, as is the importation of any gas appliance that has not been certified as compliant with Australian standards and marked with an Australian-recognised certification label. $2,750.00 fines apply to individuals in NSW for each offence, in addition their building insurance will be void.
Gas Ovens, the secret of moist cooking
Modern gas ovens heat up much more quickly than their electric cousins. In turn, gas ovens are a lot quicker to turn off and cool down too. Because of this they use substantially less energy and resources.
Most significantly a gas oven creates a wetter 'moist cooking' environment, a term often used to describe a baking process that will not dry out your food as much as if it were cooked (at the same temperature), in an electric oven. Mates Rates can carry gas installations so you can be enjoying moist cooking in no time.
Energy-efficient Gas Heating
Energy efficient natural gas heating delivers fast, controllable heat throughout your home and is effective on the coldest winter's evening. Mates Rates can recommend and fit any one of your gas heating options to heat any room or rooms to a desired temperature and keep it there. Gas heating saturates a room quickly and more completely, so no matter how chilly it gets outside, you'll never again have to huddle around an electric bar heater to try and get warm.
Ducted Whole Home Gas Heating
Ducted home gas heating is the inconspicuous alternative if you prefer not to have a physical fireplace. Ducting distributes heat throughout your home to selected zones at the touch of a button. The Heating Gas Installations is done under the floor or in the roof of houses built on a concrete slab. If there is insufficient space because of a very low roof line, the heating unit can be installed outside. Ductwork that connects the outlets to the heating unit is neatly tucked away out of sight.
Fixed and Flued Gas Space Heaters
Permanently installed gas space heating is flued to draw in and heat fresh air then circulate warm, clean air into your home or commercial premises. Gas emissions are ducted outside via their flue making gas heating ideal for those susceptible to allergies or respiratory problems as they create zero emissions.
There are a vast variety of attractive styles, some with real flame simulated log and coal fires that never need you to split logs or collect and burn fossil fuel!
Portable Un-flued Gas Heating
A portable gas heater is easy to move between any room with a gas bayonet fitting, plus you can pack it away in summer when you do not need it. You can also take it with you if you decide to move house.
More recently stylish outdoor gas heaters have become popular as they add a distinct touch of style to your outdoor entertaining. A gas bayonet fitting can simply do away with LPG gas bottles for your BBQ, pizza oven and smoker, just ask Mates Rates how an exterior bayonet fitting can revolutionise your outdoor leisure and dining.
Gas Hot Water
If you have ever enjoyed gas hot water you will never ever want anything else. Mates Rates can check and service all leading gas water heater brands, repair leaky valves or replace older gas water heaters with the latest energy efficient model best suited to your family's needs.
Storage Gas Water Heaters
Storage gas water heaters provide mains pressure hot water to many taps or showers simultaneously. The most critical selection criteria for your next gas storage hot water heater is matching its storage capacity to the needs of your family now and for as long as the next 15 years. The volume of liquids on hand is expressed in litres (L), domestic unit sizes vary from around 100 L to 400L.  Gas Installations of Compact lower capacity units are easily done internally where hot water consumption is modest, whilst larger storage capacities are ideal for bigger families or where your hot water demands are heavy. Also check each heater's energy star rating as it not only identifies the unit's economy but the heating element's efficiency that dictates the all-important water temperature recovery period.
Whilst many have electronic thermostats and ignition systems, some storage heaters are wholly gas requiring no power point, so your warm water will continue, even with no power. Mates Rates has all the information you need to make your hot water choice easier.
For those seeking the most economical, energy-efficient and infinitely reliable approach to your homes piping warm water, a gas boosted solar storage hot water system offers an ecological alternative that reduces your carbon footprint, reduces your energy bills and never compromises on reliable warm water year-round.
Continuous Flow Gas Hot Water
Among the benefits of continuous flow gas installations heating is the absence of a relatively bulky storage tank. Continuous flow gas hot water systems are compact, more easily installed internally and can be effortlessly hidden away outdoors.
Their real popularity is based on the fact that your hot water supply never runs out, as mains pressure water is heated instantaneously upon demand, and continues until the tap or your shower is turned off.
Gas boosted continuous flow hot water combines the ecological benefits of using the sun's radiation to heat your water complemented with the convenience of a reliable and inexpensive gas fuelled back up.
Water heating is our largest single source of greenhouse gas emissions, accounting for around 23% of the average Australian household's emissions. By upgrading to one of the environmentally endorsed gas hot water systems you will save money and be doing your bit for the environment.
To arrange a whole system review, complete the online enquiry form and your local Mates Rates hot water specialist will call you to make an appointment to check and advise how you can reduce gas, electricity and water wastage and start enjoying the savings of reliable, energy efficient gas hot water.
Gas Refrigeration & Freezers
Gas is an alternative to electricity for fridges and freezers too, commonplace in remote and isolated locations they are an alternative worthy of consideration in both commercial as well as domestic applications.
Gas installations of Refrigerators in motorhomes, caravans and portable site accommodation are frequently out of use for extended periods and should be checked regularly to ensure safe operation.
I smell gas!
Gas has an odour that you are probably familiar with. The odour is added as a safety precaution so when you hear someone say "I smell gas" it's not actually the gas they are smelling at all as natural gas is odourless, what you smell is an added chemical odour to alert people to a gas build up.
Over time joints in gas lines and seals in gas appliances can deteriorate causing gas to leak into your home or business. If you can smell gas in the air the breach must be located and fixed as quickly as possible by a Mates Rates licensed gasfitter.
Whenever there is a strong smell of gas by your metre or cylinder, or you become aware of damaged gas pipes on a property or street you should call the gas emergency number. If there has been an explosion or fire, or you smell gas in a highly populated area like a shopping centre or school, quickly call the gas emergency number 13 19 09 and assist people to leave the immediate area.
For major incidents where this is a risk to life or property, call 000 (Triple zero) immediately.
Gas Fitting - FAQs
Why does Gas Fitting need to be done by a professional?
Gasfitting is a complex and technical trade that takes years of training and experience. A professional gas fitter will have the knowledge and skills to install, repair, and maintain gas lines and appliances safely and correctly. It is definitely worth considering hiring a professional gas fitter for your next project. 
How do I know if I have a gas leak?
If you see bubbles or notice the smell of sulfur or rotten eggs in your home, or If you're hearing a hissing or whistling noise sound near your gas line, then you might be experiencing a substantial gas leak.  
What should I do if I smell gas in my house?
Turn off all gas appliances and your meter immediately. Open all windows and doors, and call us anytime at (02)9191 7369. We're a 24/7 gas fitter in Sydney and the surrounding area. You will receive priority service due to the serious nature of gas leaks.