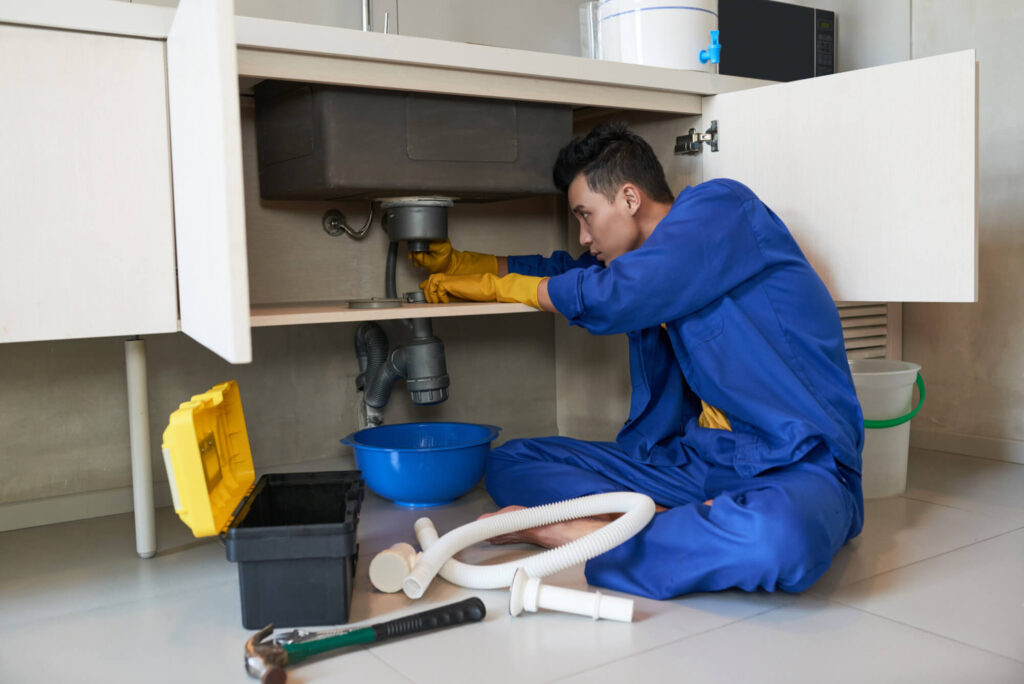 24/7 Emergency Plumbing Services
Plumbing emergencies are unplanned situations. These problems often happen anytime, early in the morning or late at night. No matter what emergency plumbing needs you are having, Mates Rates Plumbing with our emergency plumber will be there at any time. Our Emergency Plumbers Sydney provide the full range of emergency services including unclogging drains, leak repair, water damage, toilet repair, and many more. We understand how important it is to have a reliable and trustworthy plumber available whenever you need assistance.
If however, your emergency is life-threatening, call 000 (triple zero) immediately.
Your Mates Rates emergency plumber Sydney is equipped to attend to all residential and commercial plumbing emergencies and gas leaks. Act quickly to isolate yourselves and your belongings from immediate harm, if instructed turn off your water supply, gas, and/or electricity at the meter. Do not attempt to fix an emergency leak yourself, call a Mates Rates professional, and life will soon return to normal.
Call our Mates Rates Emergency Plumbers Sydney team on (02) 9191 7369 now or hit the 'we call you now' HELP button, enter your phone number and a licensed Mates Rates plumber will call you straight away to help. You can be certain that you will receive a speedy and efficient emergency plumbing solution regardless of what type of plumbing or gas fitting emergency situation you have.
Gas Leaks Emergency Sydney
Over time joints in gas lines and seals in gas appliances can deteriorate causing gas to leak into your home or business. If you can smell gas in the air the breach must be located and fixed as quickly as possible by a Mates Rates licensed gas fitter.
Whenever there is a strong smell of gas by your meter or cylinder, or you become aware of damaged gas pipes on a property or street you should call the gas emergency number. If there has been an explosion or fire, or you smell gas in a highly-populated area like a shopping centre or school, quickly call the gas emergency number 13 19 09 and assist people to leave the immediate area.
For major incidents where this is a risk to life or property, call 000.
No Hot Water
When your hot tap continually runs cold you will need to replace or fix your hot water system very quickly! Before you call Mates Rates, check the pilot light on gas hot water systems or your circuit breakers if electric. If you smell gas around your water heater do not attempt to relight the pilot, or if your circuit breaker trips again, call Mates Rates and request an emergency hot water system check.
Within minutes of arrival at your home or workplace, your Mates Rates Hot water specialist will diagnose your system's fault and advise whether replacement or a repair is your best option. With our emergency plumbing, you can get it fixed immediately.
There are many efficient new and economical electric, solar, and gas water heating solutions for the environmentally conscious. Mates Rates can advise you of your best options, restore your hot water supply as a priority and make sure that you are enjoying an economical and eco-friendly alternative to your old hot water system.
If you have no water supply at all it is most likely that Sydney Water has turned off the supply to rectify an issue somewhere in your neighbourhood, you will generally receive plenty of notice if there is water supply maintenance planned for your area. A call to Sydney Water on 13 20 90 will provide details about when your water supply will be restored.
Blocked Sewers
One of the most distressing types of flooding emergency is a blocked sewer pipe, with backed-up effluent and the accompanying foul smell. Sewer lines in Sydney's established North Shore suburbs from Willoughby to Hornsby and beyond are prone to root damage, particularly during dry spells, as ageing terracotta sewer pipes are prone to tree root penetration.
Often there are warning signs, particularly gurgling following a flush or a noticeable slowing of draining water. If your sewer exhibits these warnings immediately call Mates Rates emergency plumber sydney before the inevitable back-up occurs. Your local Mates Rates plumber is equipped with 'Jetter' high-pressure sewer clearance tools and a "Sewer Cam" that will locate and identify what needs prompt attention.
If you live in a unit or rent premises in a commercial building then unblocking backed up sewer lines, depending on the cause of the obstruction it may be the responsibility of the building management company or your landlord. If the obstruction is something you flushed down the toilet, you may well be required to pay the repair costs.
Blocked commercial drains will invariably affect your business prospects, impacting productivity, destroying stock, and upsetting your customers. Like domestic overflows, they often result in ruined floor coverings and furniture and can be costly and smelly to clean up.
Mates Rates is equipped to locate the sewer line blockage, provide advice, make appropriate recommendations, and quickly return your drainage system to normal operations. If the obstruction is no fault of yours, your landlord pays.
Building, Renovating or Landscaping
Many plumbing emergency situations occur during building and renovations when underground pipes are disturbed or damaged. Constructors may be held financially responsible for breaking underground water supply, wastewater, and sewer lines by their asset owner. To minimise your risk, Mates Rates emergency plumbers sydney team always obtains plans of City's Water's assets within a few hours of lodging your enquiry with Dial Before You Dig. So before you excavate or prepare the ground to plant a mature tree check with Mates Rates to avoid an unnecessary and potentially costly disaster.
Overflowing Stormwater Drains
Flooding can occur very quickly and stormwater drain blockages can rapidly cause extensive and costly damage. North Shore Sydney suburbs regularly record the state's highest rainfall, flash flooding frequently occurs either as your emergency's cause or result. If you see an overflow, phone Sydney Water on 13 20 90, if left it will only get worse.
Stormwater emergencies can happen without warning, even during dry periods. Foul smells, rooms filling with drainage water and mud plus power cuts are some of the upsetting problems associated with stormwater drain blockages. Mates Rates understand that you may require emergency plumber sydney service in such immediate situations. A fully equipped vehicle and drain-clearing specialist will be onsite as soon as possible to tackle your drain-cleaning needs.
Property owners are responsible for maintaining gutters and downpipes on their property, and ensuring plant roots and stormwater does not enter the wastewater drainage system.
In addition to the emergency plumbing service, Sydney's North Shore residents and business owners are invited to take advantage of an onsite Mates Rates inspection to ensure your gutters, downpipes and stormwater drains are cleared before the next big downpour.
For commercial premises and property managers, the inspection fee and drainage report is tax-deductible and gives your business peace of mind that next time it pours your drain infrastructure is in the best possible shape to cope with it.
For major flooding incidents where there is a risk to life or property, call 000.
Flood Emergencies Sydney
In extreme floods, the State Emergency Service (SES) is responsible in New South Wales. Their role includes planning for floods and educating people about how to protect themselves and their property. During a flood, SES volunteers are responsible for flood safety advice, evacuation, rescue and the provision of essentials to people cut off by floodwaters. If your home or business is in a flood-prone area you can obtain information from the NSW Government Ministry for Police and Emergency Services website at – http://www.emergency.nsw.gov.au/flood
Emergency Plumber Near Me
It is important that you contact your insurance provider straight away and tell them about any damage caused by flooding. If you do not do this, it may affect any insurance claims you need to make.
Your Mates Rates emergency plumbers sydney is equipped to attend to all residential and commercial plumbing emergencies and gas leaks. Act quickly to isolate yourselves and your belongings from immediate harm, if instructed turn off your water supply, gas, and/or electricity at the metre. Do not attempt to fix an emergency leak yourself, call for Mates Rates emergency plumbing and things will soon return to normal. If it's not a plumbing emergency, but you still need plumbing services in Sydney, we have a variety of services to offer, including commercial plumbing, fixing blocked drains and burst pipes, hot water repairs, and new appliance installations in your kitchen, toilet, or bathroom.
Emergency Plumbing Sydney - FAQs
What is considered an Emergency Plumbing Situation?
An emergency plumbing case will consist of various problems with your plumbing that are more severe than usual. Such cases can include Gas Leaks, No Hot Water, Blocked Drains, Leaking Drains, Leaking or burst water pipes, and many more. If you face any of these issues, it means you have a problem that needs to be fixed urgently by our professional emergency plumbers sydney when it just can't wait till the next day.
What to do during a Plumbing Emergency?
If you haven't dealt with an emergency plumbing issue yet, then you almost certainly will, as unfortunately, they are surprisingly common occurrences. 4 Things you can do when dealing with plumbing emergencies,

Shut off the Water
Identify the Problem
Fix the Problem by Yourself if possible
Call an Emergency Plumber Sydney.
What causes a Clogged Drain?
Clogged drains are a common plumbing problem that can be caused by a variety of things including hair, soap scum, wipes, oil, Grease, dirt, and tree roots. Avoid pouring cooking grease down drains and keep your drains clear with a regular cleaning schedule. Read what the tips are to clear your blocked drain.
What areas do you service for emergency plumbing?
Mates Rates Plumbing is and has been based in Sydney for over years. For Emergency Plumbing, we provide 24/7 emergency service across Sydney's North Shore and North West to all houses, units, offices, shops, restaurants, and commercial premises. If you want to know whether we cover your area or not, Checkout all our service areas.
Where to find the best plumbing company?
We pride ourselves in saying that Mates Rates Plumbing is the best company offering plumbing service providers in Sydney. Our emergency plumbers sydney experts are on hand for all plumbing, drainage, and heating solutions and guarantee to provide you with the best emergency services. We have made sure to have the skills, tools, and customer service necessary to be the best emergency plumber in the area.